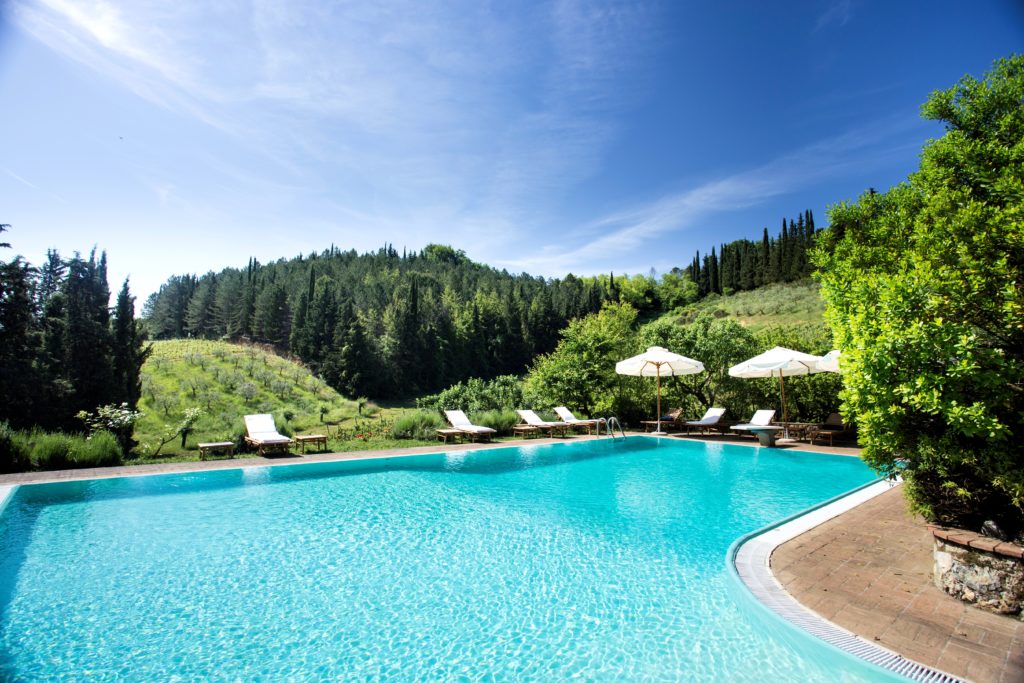 What better way to spend an Italian vacation with your love ones, a private retreat in the Tuscan countryside, a beautiful setting, lounging in the pool or cycling outdoors with charming Tuscan towns to discover. Booking a villa makes all the difference, families enjoy privacy, peace and quiet relaxation. A holiday villa is much more spacious and comes along with the comforts of a home. You can prepare your own meals or enjoy freshly baked pizza from a hot brick oven. Our villas also comes along with other elements that makes your holiday convenient and truly a vacation you deserve.
Here are our top 10 choice villas in Tuscany suited for family holidays.
Sleeps : 6 persons, Grosseto, Castiglione della Pescaia
Located in Grosseto, Villa Pallago is a beautiful stone Villa located on the hill, about 6 km distant from the sea. The Villa is easy to reach from the main road, quiet, withprivate entrance and fenced. The villa has a private tennis court also suitable for football, a children playground , horse riding grounds: sand and grass.
Sleeps : 12 persons, Monteverdi
This is a beautiful villa in a very reasonable distance to the sea in Tuscany for groups up to 12 persons. Very good value for the money. Kids will love the large park outside the house, with panoramic views, sun beds, table with chairs, table tennis and a Jacuzzi.
Sleeps : 10 persons, Siena, San Gimignano
This beautiful Tuscan estate is something everyone in the family will adore. Wide pool, surrounded by vineyards and fields. Built in the 18th century, this holiday villa offers spacious and comfortable rooms, a spacious living room with a large fireplace, and a dedicated TV room with wide screen television. Perfect for discovering the most beautiful art cities like Volterra, Florence, Pisa and Lucca.
Sleeps : 11 persons, Pisa near Peccioli
 The Villa is situated in the open countryside, very private, with a solarium with sun beds, chairs and small tables for those who prefer to bask in the sunshine. The garden is enclosed by an electric fence and Mediterranean shrub hedges to ensure total privacy and a sheltered carpark. Part of the pool is only 40 cm in depth and therefore ideal for children. Also a great base for visiting Tuscan cities.
Sleeps : 11 persons, Pisa
Built in the 18th century, this large villa can accommodate up to 11 people. The pool and the garden offers magnificent wide view into the Tuscan Landscape. The villa owners also offer activities such as guided tours, cooking lessons, gastronomical tours, etc. The pool is also suitable for children.
Sleeps : 18 persons, Pisa, Casale Marittimo
Immersed in the green of the land of Tuscany, Villa Corona is a large villa that can accomodate up to 18 people. With large pool, sommething that all can enjoy. It is also close to sea resorts in Marina di Bibbona, Castiglioncello and the Baratti's Gulf not to mention wonderful art cities like Volterra, San Gimignano, Castagneto Carducci.
Sleeps : 12 persons, Pisa, Forcoli
Children will love this adorable villa in Pisa. Villa Vescovino is set in a garden of several kinds of fauna and flora, 100 acres of private woodlands and including its own private lake and children's playgrounds. You can enjoy footpaths and quiet picnic sites.  The villa itself is lavishl decorated with marble floors, spacious marble or granite showers and 3 include free standing designer baths. The gorgeous swimming pool and outdoor area allow for complete relaxation and enjoyment in the Tuscan sun. 
Sleeps : 8 persons, Grosseto
Villa Sorano has a very cozy atmosphere, inside the house makes the holiday full of comfort and real pleasure. The views are terrific,  overlooking a picturesque countryside. Outside there is a large landscaped garden with 3 acres of sunflowers providing a breathtaking view of the countryside and a portable barbecue pergola. Only about 65 km distant from the sea.
Sleeps : 14 persons, Florence, Bagno a Ripoli
Only 15 km from Florence, the villa is an ideal holida base surrounded by mesmerizing olive plantations, vineyards and forests, the ideal villa to live the Italian Dolce Vita. Cities in Tuscany like Arezzo, Siena, Lucca can be reached in a daytrip or half a days trip. There is much to visit in the surrounding area and many activities like wine tasting, museums, arts, cycling or mushroom hunting.
Sleeps : 24 persons, Lucca
Perfect for a gathering of family and friends, Borgo Sansovino is a home of such beauty, tranquillity and comfort that you will find it hard to leave. The hamlet is set amid gently folding hills near the town of Lucca, a gracious and luxurious Tuscan retreat for up to 24 persons. Inside there is a formal dining room, a kitchen for casual dining, a drawing room with fireplace and satellite TV, a music room with fireplace, a card and full-size billiard room, as well as a fully equipped gym.