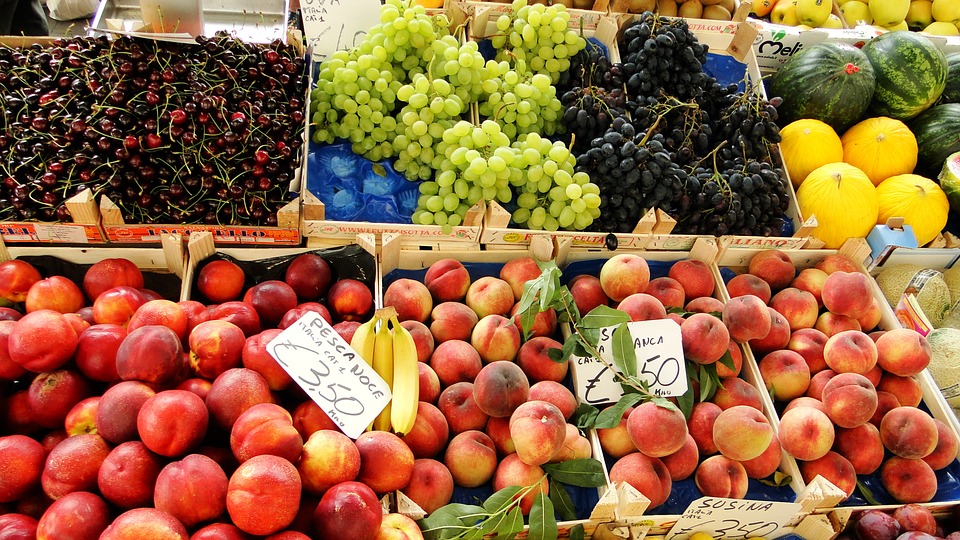 MARKET DAYS IN TUSCANY
The markets in Tuscany are one of the great sights to visit. Locals have their markets open daily, others weekends or during holidays. Find sights of fresh home grown produce, excellent cheeses, salamis, fish or pasta. There are also stalls for fine clothes, designer shoes and bags, pots, kitchenware, tools, hardware.
It is not customary to bargain for food items, they already are very cheap but you can haggle for other items like clothes if you buy many. It is polite to ask permission from the vendor if you want to touch produce like fruits or vegetables.
Most of the markets are in the morning, held 6am to 1pm. But some are also open in the afternoon or through out the day during holidays. Here is our complete guide  to the list of markets in Tuscany.
FLORENCE
MONDAY
Reggelo – Leccio
Marradi
Certaldo – Firenzoula
San Lorenzo Market, Piazza di San Lorenzo
Mercato di Sant'Ambrogio, Piazza Ghiberti and Piazza Sant'Ambrogio
Mercato Centrale, Via dell'Ariento
San Casciano Val di Pesa – Piazza della Repubblica
TUESDAY
Palazzoulo Sul Senio
Greve in Chianti – Strada in Chianti
Certaldo – Figline Valdarno
Cerreto Guidi – Bassa
San Lorenzo Market, Piazza di San Lorenzo
Mercato di Sant'Ambrogio, Piazza Ghiberti and Piazza Sant'Ambrogio
Mercato Centrale, Via dell'Ariento
Borgo San Lorenzo – Piazza del Mercato
Figline Valdarno
Montespertoli
WEDNESDAY
Lastra A Signa – Ponte A Signa / Ginestra
Cerreto Guidi – Lazzeretto
Calenzano – Via Don Minzoni
San Lorenzo Market, Piazza di San Lorenzo
Mercato di Sant'Ambrogio, Piazza Ghiberti and Piazza Sant'Ambrogio
Mercato Centrale, Via dell'Ariento
Certaldo – Fucechio
Pontassieve
THURSDAY
Tavernelle val di Pesa
Vicchio
San Casciano Val di Pesa
Rignano Sull'Arno
Reggelo – Cascia
Londa
Lastra A Signa
Certaldo – Empoli
San Lorenzo Market, Piazza di San Lorenzo
Mercato di Sant'Ambrogio, Piazza Ghiberti and Piazza Sant'Ambrogio
Mercato Centrale, Via dell'Ariento
Pelago – Piazza Ghiberti
San Donato in Poggio – Piazza Matteotti
FRIDAY
Scarperia
Reggelo – Tosi
Pontassieve
Pelago – San Francesca-Albereta
Montaione
Greve in Chianti – Ferrone
Calenzano – Settimello
San Lorenzo Market, Piazza di San Lorenzo / Viale della Resistenza
Mercato di Sant'Ambrogio, Piazza Ghiberti and Piazza Sant'Ambrogio
Mercato Centrale, Via dell'Ariento
Signa – Piazza della Republica
Tavarnelle Val di Pesa – Via Boccaccio
SATURDAY
Sesto Fiorentino – Piazza del Mercato
Scandicci
Pontassieve
Palazzoulo Sul Senio
Certaldo – Dicomano
Cerreto Guidi – Stabbia
Campi Bisenzio via Palagetta ( every Saturday afternoon, every morning in July , August)
Piazza di San Lorenzo
Mercato di Sant'Ambrogio, Piazza Ghiberti and Piazza Sant'Ambrogio
Mercato Centrale, Via dell'Ariento
Barberino Val d'Elsa – Piazza Mazzini
Barberino di Mugello
Castelfiorentino – Piazza Kennedy
Greve in Chianti – Piazza Matteotti
Impruneta
Lastra A Signa
Montelupo Fiorentino – Piazza Grande
Reggello – Piazza Aldo Moro
Rufina – Piazza Umberto I
San Piero a Sieve – Via Provinciale
Sesto Fiorentino – Piazza Veneto
SUNDAY
San Godenzo
Greve in Chianti – Panzano
San Lorenzo Market, Piazza di San Lorenzo, Ronta and Casaglia
La Fierucola, Piazza San Spirito (3rd sunday of the Month)
Panzano
---
SIENA
MONDAY
San Giovanni d'Asso – First Monday afternoon of every month
Chiusi Citta – Chiusi Scalo
Casole D'Elsa
Gaiole in Chianti – Via Ricasoli – 2nd Monday of the month
Radda in Chianti – Piazza IV Novembre and Via Matteotti – 4th Monday of the month
TUESDAY
Torrita di Siena – Montefollonico ( Every Tuesday afternoon )
Sovicille – Every first and third Tuesday of every month
Sinalunga
San Quirico d'Orcia – Every first and fourth Tuesday of every month
Monteroni d'Arbia
Chiusi Citta
Castiglione d'Orcia – Campiglia d'Orcia/Gallina
Chiusi – historic centre
Poggibonsi – Via Re di Puglia
WEDNESDAY
San Giovanni d'Asso – Every third Wednesday afternoon of every month
Chianciano Terme – Via della Pace and Via dello Stadio
Siena – La Lizza and around Fortezza Medicea
THURSDAY
Trequanda
Sovicille – San Rocco a Pilli (first and third Thursday of every month)
San Casciano dei Bagni – Every first and third Thursday of every month
Rapolano Terme
Radicofani – Every second and fourth Thursday of every month
Chiusdino
Cetona
Abbadia di San Salvatore
Castelnuovo Berardenga – Piazza Marconi and Via Chianti
Montepulciano – Piazza Nenni
San Gimignano – Piazze dell'Erbe, Piazza della Cisterna and Piazza del Duomo
FRIDAY
Torrita di Siena
Sarteano
Monticiano
Montepulciano – Acquaviva
Colle Val d'Elsa – Piazza Arnolfo, Via Mazzini and Via Oberdan
Montalcino – Via della Libertà
Pienza – Via Mencattelli
SATURDAY
Torrita di Siena – Torrita Scalo
Sovicille – Rosia ( Every first and third Friday of every month)
Sinalunga – Bettole
Poggibonsi
Piancastagnaio – Every first and third Saturday of every month.
Montepulciano Stazione
Cetona
Castiglione d'Orcia – Vivo d'Orcia
Asciano – Via Mameli and Via Amendola
Buonconvento – Piazzale Garibaldi
Castellina in Chianti – Via IV Novembre
San Gimignano – Piazze dell'Erbe, Piazza della Cisterna and Piazza del Duomo
AREZZO
MONDAY
Subbiano
Pieve San Stefano
Foiano della Chiana
Castel San Nicolo
Loro Ciuffenna – Piazza Garibaldi
TUESDAY
Stia
Sansepolcro
Poppi – Ponte a Poppi
Montevarchi
Cortona – Terontola
Bucine – Ambra
WEDNESDAY
Pergine Valdarno – Montalto
Civitella di Val di Chiana
Castel Focognano – Rassina
Anghiari
Bucine – Via Roma and Piazza del Popolo
Monte San Savino
THURSDAY
Sestino
Lucignano
Cortona – Camucia
Castiglion Fibocchi
Bibbiena
Montevarchi – Piazza XX Settembre
FRIDAY
Pratovecchio
Poppi – Badia Prataglia
Pian di Sco – Faella
Pergine Valdarno
Loro Ciuffenna – San Giustino
Chitignano
Castiglion Fiorentino
Castelfranco di Sopra
Capolona
Bibbiena – Soci
Badia Tedalda
Terranuova Bracciolini – Piazza della Repubblica
SATURDAY
Sansepolcro
Poppi
Pian di Sco
Arezzo – Via Giotto
Cortona – Piazza Signorelli
San Giovanni Valdarno – Corso Italia and Piazza Cavour
SUNDAY
Talla
Montemignano
Monterchi – Piazza Mercato
---
PISA
MONDAY
Lari – Perignano
Castelfranco di Sotto – Via XX Settembre
TUESDAY
Volterra – Saline di Volterra
Vicopisano – S. Giovanni alla Vena
San Guiliano Terme
Cappanoli
Bientina
Peccioli
San Miniato – Piazza Dante Alighieri
WEDNESDAY
Santa Luce
Ponsacco
Castelnuovo di Val di Cecina
Pisa – Via Buonarroti / Via S. Martino
Lajatico
Castelfranco di Sotto
Calci
Pisa – located in the soccer stadium parking area
THURSDAY
Santa Maria A Monte
Pomarance
Palaia
Cascina
Calcinia
Casciana Terme
FRIDAY
Vicopisano – Uliveto Terme
Montescudaio
Pontedera
Vecchiano
SATURDAY
Vicopisano
Santa Croce Sull'Arno
Pisa – Via Buonarroti / Via S. Martino
Lari
Castellina Marittima
Calcinia – Fornacette
Montopoli Valdarno – Piazza S.Sebastiano
Volterra – Piazza dei Priori
SUNDAY
Volterra – 3rd Sunday of every month
PISTOIA
MONDAY
Monsummano Terme – Piazza Giusti
TUESDAY
Buggiano – Piazza del Mercato and Piazza Salutati
Bottegone
WEDNESDAY
Chiesina Uzzanese
Agliana
Massa e Cozzile – Piazza Della Resistenza
Pistoia – Piazza Duomo and Piazza Santo Spirito
THURSDAY
San Marcello Pistoiese
Cutigliano
Santo Pietro
Abetone
Montecatini Terme – Piazzale Granduca Leopoldo
FRIDAY
Serravalle Pistoiese
Ponte Buggianese
Montale
Lamporecchio
SATURDAY
Quarrata
Pescia
Larciano
Santo Pietro
Bottegone
Pieve a Nievole – Piazza 27 Aprile
Pistoia – Piazza Duomo and Piazza Santo Spirito
---
GROSSETO
MONDAY
Orbetello – Talamone
Capalbio – Capalbio Scalo
Arcidosso – Montelaterone in Piazza Madonna (first and third Monday of every month)
Arcidosso – Stribugliano in via Provinciale (second and fourth Monday of every month)
Monte Argentario – Porto Ercole
TUESDAY
Sorano
Roccastrada – Ribolla
Gavorrano
Cinigiano
Castiglione della Pescaia – Buriano
Capalbio – Borgo Carige
Arcidosso – Via Guglielmo Marconi
Monte Argentario – Porto Santo Stefano
Sorano – Piazza della Repubblica
WEDNESDAY
Roccastrada
Orbetello – Fonteblanda
Massa Marittima
Magliano in Toscana
Isola del Giglio – Giglio Porto
Civitella Paganico – Civitella Marittima
Castiglione della Pescaia – Tirli
Castel del Piano – first Wednesday of every month (first Thursday in case of a holiday)
Grosseto – Marina di Grosseto
Capalbio – Piazza Provvidenza
Pitigliano – Piazza del Mercato
THURSDAY
Santa Fiora – first and third Thursday of every month
Massa Marittima
Isola del Giglio – Giglio Castello
Gavorrano – Bagno di Gavorrano
Castell'Azzara
Grosseto – Piazza De Maria
FRIDAY
Sorano
Scansano
Isola del Giglio – Giglio Campese
Gavorrano – Ravi
Follonica
Castiglione della Pescaia – Vetulonia
Castiglione della Pescaia – Piazza Ponte Giorgini
Orbetello – Via Caravaggio and Via Trento
SATURDAY
Roccastrada – Roccatederighi
Orbetello
Monterotondo Marittimo – second and fourth Saturday of every month
Manciano
Civitella Paganico – Paganico
Castiglione della Pescaia
LIVORNO
MONDAY
Suvereto
Rosignano Marittimo – Rosignano Solvay
Rio Marina
Castagneto Carducci
TUESDAY
Rio Nell'Elba
Marciana Marina
Collesalvetti – Stagno
Cecina
WEDNESDAY
Rio Marina – Cavo
Collesalvetti – Vicarello
THURSDAY
Bibbona
Castagneto Carducci – Via Leonardo da Vinci
WEDNESDAY
Bibbona – Marina di Bibbona
Campo Nell'Elba – Marina di Campo
THURSDAY
Rosignano Marittimo – Castiglioncello
Collesalvetti
Castagneto Carducci – Donoratico
FRIDAY
Rosignano Marittimo – Piazza Garibaldi
Portoferraio
Livorno – Via Pensieri and Via Allende
SATURDAY
Porto Azzurro – Piazza De Santis
Collesalvetti – Vicarello
Campo Nell'Elba – Sant'Ilario and la Pila
San Vincenzo – Piazza Giovanni XXIII
SUNDAY
Campo Nell'Elba – San Pietro in Campo
---
LUCCA
MONDAY
Seravezza
Camaiore – Lido di Camaiore (Viale Kennedy)
TUESDAY
Piazza Al Serchio
Massarosa
Camaiore – Capezzano Pianore
Lucca – Ponte a Moriano (Piazza Cesare Battisti)
Bagni di Lucca – Piazza Aldo Moro
WEDNESDAY
Gallicano
Coreglia Antelminelli
Bagni di Lucca
Lucca – Via dei Bacchettoni
Forte dei Marmi – Piazza Marconi
THURSDAY
Altopascio
Castelnuovo di Garfagnana – historic centre
Castiglione Garfagnana – historic centre
Pietrasanta – Piazza Statuto
Viareggio – Piazza Cavour
FRIDAY
Barga – Fornaci di Barga
Bagni di Lucca – Piazza Aldo Moro
Camaiore – Piazza Oberdan
Capannori – Piazza Aldo Moro
Torre del Lago – historic centre
SATURDAY
Seravezza – Querceta
Porcari
Pieve Fosciana
Coreglia Antelminelli
Castelnouvo Garfagnana
Capannori – town center, Marlia, Colle di Compito
Bagni di Lucca
Barga – Via Giardino
Lucca – Piazza Varanini – Via dei Bacchettoni, Via Iacopo della Quercia
SUNDAY
Fabbriche dei Vallico
Lucca – Pulia
Forte dei Marmi – Piazza Marconi
Open Weekdays : Viareggio