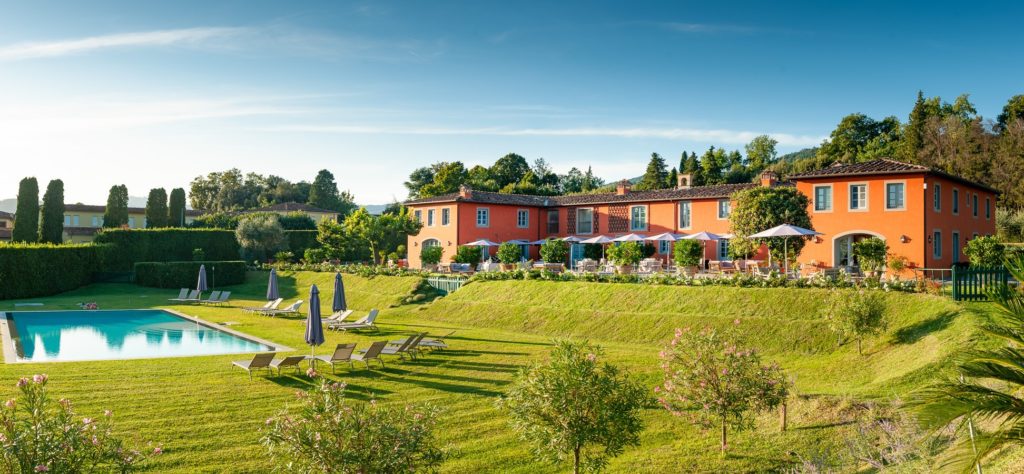 A Luxury Haven in Lucca, Tuscany – L'Arancera
Sleeps 24-32 People, 12 bedrooms
L'Arancera di Villa Grabau is located on the most beautiful hill behind the city of Lucca, surrounded by the area's most famous historical mansions. The accurate renovation has transformed the former farmhouse into a luxury haven, with all modern day comforts. During summer time the Infinity Pool is the center of the property, along with the possibility to dine in the beautiful citrus fruits and olive trees garden. While during winter time the elegant fireplaces and a good glass of wine will cuddle guests in a timeless dimension.
The garden is designed as a real oprn-air greenhouse: oranges, lemons, cedars, tangerines, grapefruits. Together with olive trees, boxwoods, palms, hibiscus.
Arancera's citrus fruits collection recalls for the bigger collection in Villa Grabau. Guests can organize a private visit to explore the Botanical Gardens, the Lemonhouse and its plants with their centenary vases.
The infinity pool with salt water is perfect for a sunrise swim, surrounded by the countryside's silence. Alternatively also for a whirlpool session at the end of the day.
To Book or Details <<<<Click Here>>>>